Lawsonline™ Legal Topics
Flood Survival: How to prepare, respond, and recover from a flood.
Experience is sometimes an unforgiving instructor. At Lawsonline™, we learned about devastation caused by flood waters firsthand when Cedar Rapids, IA was hit by a massive flood June 13, 2008. Lawsonline™ is parented by enlighten technologies, inc.™, which includes many other businesses such as LAWCHEK® and LEGALCONFERENCE™. Our headquarters in downtown Cedar Rapids was inundated with water after the Cedar River crested at 31.1 feet (19.1 feet over flood stage) to overtake 1,300 blocks of the city.* The first floor was completely lost and when the water reached 4 feet on the upper level, it was destroyed, as well. After a slow road to recovery, and upon reflection, we've written an article about what to do if a flood hits your home or business. We hope our readers never have to use the practical advice in this article.
Before the Flood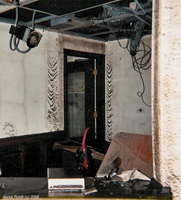 It is not always possible to know when a flood will happen. It may be caused by an inundation of rain fall. Cities in Iowa were affected in this way when the Cedar and Iowa Rivers swelled with over 10 inches of rain in only one week.** This can then be compounded when man-made structures give way. This was seen in New Orleans when 50 levees broke during Hurricane Katrina.* So what can you do to protect your business or home before a flood happens?
Find out about the land your structure is on. Does it sit on a flood plain? What is the threat level? Geologists or your county planning department will list these areas by the probability of a flood. For instance, Cedar Rapids has areas designated as 100 or 500 year flood plains. The flood in June was a 500 year flood.
FEMA Offers flood maps detailing current flood risk. Simply type in your address and you can look at it online. You also have the option to buy a map, but as long as you are looking online, the service is free. http://msc.fema.gov/
Now that you know where your home or business stands, what kind of insurance is available? Talk to your insurance agent first. If you want to now more about insurance options, especially in higher risk areas, also check out the National Flood Insurance Program at www.floodsmart.gov/floodsmart/.
Whether a household or a business, you should have an evacuation plan in place. Let family members and employees know what evacuation route to take if water is rising swiftly and an evacuation is ordered. For households you should include a place for everyone to meet whether it is a local shelter or a relative's/friend's house. Also, families should have an out of state contact that everyone may call to locate each other in case they are separated.
Create an emergency kit to be ready at any time. Depending on the needs (home or business) some items to consider are:

Clean water (enough for at least 3 days for every person and animal – generally 5 gallons per person)
Nonperishable food for 3 days (don't forget a can opener!)
Suitcase with an extra pair of clothes and extra blankets or sleeping bags
Baby Kit - Baby food, diapers and other supplies
Pet food, leashes, vaccination info for your pet – you may have to leave your pet at a local pet shelter if you are evacuated as emergency shelters do not allow pets
First Aid Kit – try to include some extra prescription medications (not expired!) or details about any prescriptions so you can refill them if lost in the flood
Personal Hygiene Kit – sanitary wipes or gel, soap, toothpaste, feminine supplies, deodorant, etc.
Flashlights, radio or small TV, and batteries – you may also consider crank flashlights and radios
Some items to have on hand particular to a flood threat: insect repellent, rubber boots and gloves, and thick shoes

Back up your documents! If you are evacuated due to a flood there are certain documents you will need for claims and getting back on your feet. Keep a copy of these documents with your emergency kit, at a safe location other than your home or both. At the very least these documents should include: insurance information, social security number, and medical records including any active prescriptions. It would also be a good idea to make a list of emergency contact information including family and friends as well as local and state numbers you may need.
Prepare your business or home to resist flood damage. Suggestions include: install sump pumps with a back-up source of power, install backflow valves or plugs to prevent sewage entering the home, and make sure any fuel or propane tanks are securely and properly installed.
During the Flood
Once a flood watch or warning is given call local authorities and let them know of anyone who may have special needs and cannot leave the flood area easily. It is extremely helpful for authorities to know who needs help evacuating if an evacuation becomes necessary. Ideally, have a friend or family member who will try to get this person out first if it is still safe to do so. This way there is less chance of separation.
Get your emergency kit and keep it at hand in case of an evacuation. If you have some prep time before, fill up the gas tank to make sure you can go at a moments notice. If an evacuation is ordered there may be heavy traffic and you may need to go some distance to a shelter.
Secure any items outside that might become hazards in water such as garbage cans, lawn furniture, grills, etc.
If an evacuation is imminent: turn off the power and gas.
If an evacuation is ordered, evacuate immediately. Use the route the authorities have given and make certain not to drive through flooded roads.
If you are not ordered to evacuate, stay home and listen to any future announcements. Unless helping a family member or friend for a specific purpose, stay off the roads and out of the way of emergency crews. Going to watch is not helpful and can be potentially very dangerous.
After the Flood
First you will want to contact your insurance company. Even if you are not covered for a flood, you will need to contact your agent. This is why it is important to keep documentation with your emergency kit. You need to know your company, agent (if applicable) and your policy number. In the case of evacuation, make certain to specify the address and phone of where you can be reached now. This may also be a friend or relative who can act as a point of contact if you are not immediately near a dedicated phone. They will set up an appointment to meet with you and discuss your losses. If they do not get back in a few days be persistent and call again, just keep in mind they may be overwhelmed with claims.
Work with authorities about your return. Although this part can be extremely frustrating, in the case of major floods they will want to assess the safety of your return before you may enter any neighborhood or structure. Choose representatives, as in the case of Cedar Rapids the first look at the property was restricted to 1-3 people depending on location. The authorities may have also set up a grade system for the status of your structure. In Cedar Rapids there were green, yellow and red signs letting owners know whether a structure was safe to enter, enter only with caution or too dangerous and deemed a total loss.
Once it has been deemed safe by the authorities for you to return, start the process of sorting your property. Do not throw out all items as you will need your insurance agent to see these. However, if the items are considered too toxic to keep around, get pictures and samples of the items before disposing of them. Make sure to take all precautions necessary before entering a flood damaged building! Click here for more details.
Take many pictures of the inside and outside of your structure before cleanup. Photograph any standing water, items that have to be disposed of immediately and general survey pictures of each room. Also, take pictures of the items that will have to torn out such as the walls, floors, etc.
Make a list of all damaged and lost items. This will help when you work with your insurance agent to process your claim. With your agent you will make a Proof of Loss. This statement is your testimony to the damages suffered. It should be filed within 60 days unless circumstances have allotted more time. Once this is filed with your insurance company your claim will be processed, however, it may take some time if the area was hit especially hard.
Flood Damage and Cleanup


After the Flood: Home and Family Recovery – Working with FEMA
FEMA stands for the Federal Emergency Management Agency. As they state on their website they define their type of disaster assistance as "money or direct assistance to individuals, families and businesses in an area whose property has been damaged or destroyed and whose losses are not covered by insurance. It is meant to help you with critical expenses that cannot be covered in other ways. This assistance is not intended to restore your damaged property to its condition before the disaster." In essence they are there to help those who could not or did not get flood insurance.
Items FEMA will cover are: temporary housing in the instance of evacuation or unlivable conditions, repair for what the insurance company will not cover (this is just until the home is safe, not necessarily with the same materials as before), and permanent housing construction. This last is only available to those who cannot get flood insurance at all due to location.
FEMA can help with recovery costs that are not directly related to the home. These additional expenses can only be claimed if you live in a disaster area as designated by the President, you have already filed with your insurance company and find you are not covered, and you have serious needs directly related to the disaster. Some of these costs listed on the FEMA website include:

Disaster-related medical and dental costs.
Disaster-related funeral and burial cost.
Clothing; household items (room furnishings, appliances); tools (specialized or protective clothing and equipment) required for your job; necessary educational materials (computers, school books, supplies).
Fuels for primary heat source (heating oil, gas).
Clean-up items (wet/dry vacuum, dehumidifier).
Disaster damaged vehicle.
Moving and storage expenses related to the disaster (moving and storing property to avoid additional disaster damage while disaster-related repairs are being made to the home).
Other necessary expenses or serious needs as determined by FEMA.
Other expenses that are authorized by law. www.fema.gov

You can reach FEMA by calling 1-800-621-FEMA (3362) or TTY 1-800-462-7585
When making any claim, you should have the following at hand: your social security number, current and damaged address, current phone contact, insurance information, household annual income, routing number to your bank to receive funds, and a detailed description of the losses.
You may be referred by FEMA to SBA which offers low-interest disaster loans. "Homeowners may borrow up to $200,000 for disaster related home repairs. Homeowners and renters may borrow up to $40,000 to replace disaster-damaged personal property including vehicles." However, you can not receive duplicated aid already received from FEMA.
To find currently approved disaster areas you can go online: www.fema.gov
After the Flood: Business Recovery – Working with SBA
SBA stands for the Small Business Administration which has a specific branch for disasters the Office of Disaster Assistance (ODA) that offers federal low-interest, long term loans for "homeowners, renters and non-farm businesses." An Economic Injury Disaster Loan (EIDL) is available to small businesses specifically geared towards helping with day to day expenses so a business may continue to operate.
SBA can release disaster loans if one or more of the following conditions are met: Presidential Disaster Declaration, Agency Physical Disaster Declaration (based on a minimum amount lost), Governor Certification Declaration, Secretary of Agriculture Declaration, Secretary of Commerce Declaration, or Military Reservist Economic Injury Disaster Loan (for businesses that lose key personnel who are called to active duty).
For Physical Disaster Loans which help replace an uninsured or under-insured property, an inspection team from SBA's ODA will review the site and claims.
Applicants do have to show some reasonable ability to pay back the loans. However, since they are low-interest and can be as long as 30 years, they are easier to qualify for than standard loans.
Especially with real estate, the SBA's ODA will continue contact with the borrower to make certain construction is on schedule and funds are being used appropriately.
You can reach SBA by calling 1-800-659-2955 8am-9pm EDT. Or e-mail them at disastercustomerservice@sba.gov.
Additional pointers on page two of this article: Cleaning Up after a Flood & Battling Mold after a Flood
Some Ways to Help Our Neighbors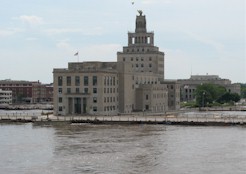 Aidmatrix Network - Iowa
www.aidmatrixnetwork.org
The Safeguard Iowa Partnership and the Iowa Disaster Human Resource Council have partnered to provide the Aidmatrix Network, an easy way to make monetary and product donations to the nonprofit organizations that are assisting in the response and recovery efforts following recent disaster events in Iowa.
Cedar Rapids Czech & Slovak Museum
www.ncsml.org/Content/About-Us/Museum-History/2008-Flood.aspx
The National Czech & Slovak Museum & Library was devastated by the Flood of 2008. Five museum-owned buildings in Czech Village were affected, bringing total flood damage to an estimated $11 million. 75% of our collection was safe from the flood and most of the remaining items are in the process of conservation. It will take several more years to complete the process of conservation, cataloging and inventory the collection.
Cedar Rapids Public Library
www.crlibrary.org/downtown-library/
Library 3.0, the campaign to build a new Cedar Rapids Public Library (CRPL), is all coming together to help prepare young minds—for the future. Why is the campaign called Library 3.0? Because this will be the third and most forward-thinking version of a main library in downtown Cedar Rapids (Library 1.0 would have been the Carnegie Library, which opened in 1905. Library 2.0 would have been the last library, which opened in 1985 and was destroyed in the flood of 2008).
Corridor Recovery
www.corridorrecovery.org
Corridor Recovery is a not-for-profit partnership between government, civic, business and faith-based organizations, created to respond to the Flood of 2008. As the flood waters peaked, Corridor Recovery quickly became the primary resource for materials and information for Linn County and Cedar Rapids. We provide resources for local governments and agencies to distribute flood-recovery information to the public in a critical time of need, and to coordinate volunteer efforts in the clean-up and recovery process.
Iowa Commission on Volunteer Service
http://volunteer.united-e-way.org/icovs/volunteer/
If you are interested in helping in a particular area of the state, please use this section of our Web site to get in touch with local officials, who are collecting a list of where and when volunteers are most needed.
University of Iowa Foundation
www.uifoundation.org
For those wishing to support the University as it struggles to recover from flood-related damage not covered by insurance or other resources, we encourage contributions to the UI Flood Relief Fund.
Return to Legal Topics
Table of Contents
---
More Information
FEMA and the American Red Cross have made a pamphlet entitled Repairing Your Flooded Home which is available as a PDF. A great resource, page 55 has a very useful emergency contact list as well.
Click here for Repairing Your Flooded Home by FEMA and the American Red Cross (PDF)
Additional pointers on page two of this article: Cleaning Up after a Flood & Battling Mold after a Flood
Sources for this article which include even more detailed information:
Center for Disease Control
CDC.gov (www.cdc.gov) is your online source for credible health information and is the official Web site of the Centers for Disease Control and Prevention (CDC). CDC is committed to achieving true improvements in people's health. CDC applies research and findings to improve people's daily lives and responds to health emergencies—something that distinguishes CDC from its peer agencies. Working with states and other partners, CDC provides a system of health surveillance to monitor and prevent disease outbreaks (including bioterrorism), implement disease prevention strategies, and maintain national health statistics. CDC also guards against international disease transmission, with personnel stationed in more than 25 foreign countries
FEMA – Federal Emergency Management Agency
www.fema.gov
FEMA has more than 2,600 full time employees. They work at FEMA headquarters in Washington D.C., at regional and area offices across the country, the Mount Weather Emergency Operations Center, and the National Emergency Training Center in Emmitsburg, Maryland. FEMA also has nearly 4,000 standby disaster assistance employees who are available for deployment after disasters. Often FEMA works in partnership with other organizations that are part of the nation's emergency management system. These partners include state and local emergency management agencies, 27 federal agencies and the American Red Cross.
National Flood Insurance Program
www.floodsmart.gov
Congress established the National Flood Insurance Program (NFIP) to address both the need for flood insurance and the need to lessen the devastating consequences of flooding. The goals of the program are twofold: to protect communities from potential flood damage through floodplain management, and to provide people with flood insurance.
SBA – Small Business Administration
www.sba.gov
The U.S. Small Business Administration (SBA) was created in 1953 as an independent agency of the federal government to aid, counsel, assist and protect the interests of small business concerns, to preserve free competitive enterprise and to maintain and strengthen the overall economy of our nation. We recognize that small business is critical to our economic recovery and strength, to building America's future, and to helping the United States compete in today's global marketplace.
*Specifics taken from the following articles: http://www.usatoday.com http://www.nytimes.com http://en.wikipedia.org **Weather data: http://ia.water.usgs.gov
---