Lawsonline™ Legal Topics
Homeowners Insurance: What does your policy cover?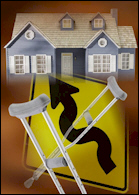 Many of us obtain our homeowners insurance when we purchase our home. After this initial purchase, we do not give this insurance another thought. It is not until the roof is damaged during a violent thunderstorm, a major appliance fails and floods our basement, or the neighbor's kid slips and fractures their wrist in our living room that we dust off the policy and ask ourselves, "Am I covered for this?" Don't wait until damage or an accident happens to discover what your insurance policy includes. Instead, you should have a good understanding of your policy and every year you should assess if your coverage should increase. The purpose of this article is to point out some general characteristics of homeowners insurance and help you determine if you have the right coverage. Obviously this cannot substitute for a consultation with your insurance provider, but it will give you a better idea of what questions to ask.
There are five popular topics concerning homeowners insurance that we will discuss below: types of damage covered, determining replacement cost, determining personal property value, understanding liability coverage, and ways to save money on your policy.
Homeowner insurance policies typically cover damages such as: fire and smoke damage, storm damage (i.e. lightening, wind, hail, ice and snow), water damage (other than flooding as this is separate), explosion, vandalism, theft (some companies are now offering an identity theft coverage option as well), civil unrest, and damage by aircraft and vehicles. You should discuss with your insurance provider any additional hazards you may face in your location such as earthquakes or floods. There may also be hazards you are not immediately aware of that could effect your insurance cost such as your neighborhood crime rate or if you own a pet that is considered to be a high liability risk (i.e. certain breeds of dogs). Depending on the probability of need, you may be required to get additional coverage for these hazards by your insurance carrier and/or mortgage lender. To find out about special hazards in your area, talk with your insurance provider or contact your state insurance commissioner. If you run a home business, you will need to get separate insurance to cover business items such as computers and liability, i.e. if you run a daycare, your standard homeowners will not cover any accidents. Other items that are not covered by your homeowners insurance but may be covered by additional or alternate policies are: tenants, multiple family dwellings, land, theft by those covered in your insurance policy (i.e. recently separated spouses), and cars. Take a look at your policy and review your coverage. Consider how you use your home or where your home is located. Do you need additional or special coverage? This is a question you should review every year.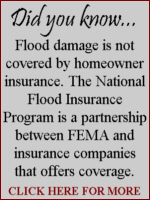 When choosing a policy, it is important that you consider the replacement cost of your home. The replacement cost is the amount it would take to replace your home. Replacement cost is not the same as the market value of your home as the market value includes the property it stands on and the current housing market. Because of this, it may not be equal to your outstanding mortgage. You can get estimates for replacement cost from appraisers, your local builder/craftsmen association or your insurance agent. Once you have determined how much your home replacement cost should be, you should review it and make any needed adjustments every year. Most insurance companies will include an increase of coverage every year to match inflation. However, other items may also require you to adjust your replacement cost. Major remodels to your kitchen or bathroom or room additions can drastically effect the replacement cost of your home. If you use special materials or there is a housing boom making building materials scarce in your area, these too may affect your replacement cost. Another item that may effect your replacement cost is the change in building codes since when the house was built. Even with partial damage, it may be necessary to take the whole area/structure down to bring it up to code. If you own an older home, you should definitely discuss this with your agent. You may also get an extended replacement policy that will help you if your replacement coverage is below what you need. However, it is more economical if you take the time to review your policy and change your replacement cost coverage each year. Finally, keep in mind your policy should also include coverage for living expenses while the home is rebuilt or repaired. With the structure insured for major repairs, you can now consider your possessions.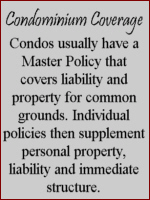 Determining the personal property value depends on how much time the homeowner wants to invest in itemizing their property. Traditionally, most homeowners are covered at 50% of their home's value to cover personal property. Some pay a bit extra and get 75% of the homes value. Replacement costs like this cover like items, not necessarily the same make and model. You can also make an itemized actual cash value list that will cover items' actual cost minus depreciation. Many opt for percentage replacement coverage and then add a "floater" that will cover individual inventoried items. Major items should be inventoried with make, model, original cost, and documentation by picture or video. Items like jewelry and antiques should also have an appraisal. The documentation of these items should be kept in a secure location like a safe deposit box or a fireproof safe. Even if you opt for the general 50% coverage, you should have a list of your most valued possessions in case theft as this may help in tracking the items down.
Liability coverage protects you, your family, house guests and pets if they should accidentally hurt someone on your property or hurt someone or damage property elsewhere. On average, liability insurance usually covers up to $100,000 per incident. However, with lawyer and medical costs high these days, many homeowners also add an umbrella which allows for greater coverage at reasonable rates. Although most think of medical coverage as part of their liability coverage, it is actually categorized separate from liability because it pays for minor injuries that do not need to prove fault or negligence to be covered. An example would be someone twisting their ankle at your home. Liability is an important coverage that you will want to discuss with your agent.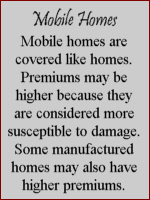 Finally, there are a few things you may do to ease the cost of homeowners insurance. One way to lower your overall insurance cost is if you know you can take a higher deductible. If you can pay $500-1000 instead of $300 for each instance, this will lower your premium. Some decide to do this as the probability is that they will not claim or use the insurance very often. In addition to this, you may also pay your premium in larger and fewer payments. Another method to lower costs is to itemize your insurance to only the hazards you think most probable to happen. However, this option may not be available if you still owe a mortgage as the mortgage company may want more inclusive coverage. Also, you may check and see if there are any improvements you make to the home that may reduce your premium. Installing a home security system for example. Finally, combining policies with one carrier will also help you get lower premiums. If you combine your home, auto and life insurance policies, many companies will give you a preferred rate. Talk with your agent for further ways you may able to save money but maintain sound coverage on your home.
Conclusion
There are a lot of options for your homeowner's insurance policy. When setting up a policy, shop around and talk to different insurance companies to find one that works well with you. Find out if they have a good reputation with the state insurance commissioner and consumer reports. Find one that is fast, offers great service and handles claims fairly (you don't want to end up with a company that argues every claim). Hopefully this overview has helped equip you with a better idea of the coverage you may need for your home. You should have a better idea what to look for in a policy when you contact an agent to set up your homeowner's insurance.