Lawsonline™ Legal Topics
Don't Break the Bank: Tips for the Household Budget
Most of us always appreaciate new ways to be a bit smarter with our money. If it wasn't your New Year's resolution this year, you can always make a late start and implement a few new approaches to making your money last. Finishing taxes on one year and looking at the lengthy year ahead, a little time taken to reflect on spending habits can help lead to better financial security during the slow economic recovery. Although the majority of us do not have direct influence on the big companies and banks, we do control how we run our individual households, and as the economy improves slowly, many of us will be tightening our spending budgets and looking for ways to save. Below we have provided some online resources for everything from keeping a balanced budget to finding ways to shop a bit smarter.
Know your budget:
Before you can adjust your household budget to save, pay off debt or get ahead in your payments, you have to have a realistic look at what you owe and what you earn.
Revisit your grocery list:
Reconsider how you buy groceries and what you buy.
Always shop with a list - Some suggest a list for any shopping trip you take. Always have a clear idea of what you need. This will help you find the best deals and not get distracted by impulse buys.
Buy generic brands - When you compare ingredient labels you may be surprised how similar or exact the name brands are with the generic. Try a couple taste tests, not everything generic will be ideal for your pallet, but some may surprise you, and savings could sweeten their flavor all the more!
Buy in bulk - Many stores now offer you the option to save by buying in bulk. Never use enough of it in time? Consider teaming up with family or neighbors and splitting your purchases. Maybe you don't need 10lbs of chicken, but 5lbs at $2 less per pound is savings to the bank.
Pack more snacks - When shopping, look for items you can easily put in the car, at the office or anywhere you might get the munchies. This way you can curb you hunger before you decide to hit the fast food on the way home.
Home Ec 101: Bake and Cook - Take on the personal challenge to become a better chef. Don't have the time? The internet is full of quick and easy casseroles, muffins, and other recipes that can help you get through your day. You will save money in the 15 minutes it takes to make these meals and you may find them more satisfying than microwave dinners.
Home brewed coffee - If you are addicted to your caffeine, then it is time to invest in a coffee pot with a clock and timer. You can still grab the coffee on the way out the door without being slowed down. Need it at work? Consider a French press where you can brew coffee conveniently at your desk without any machines, filters or mess.
Find your green thumb - If you have the property consider making a garden with your favorite greens. Fresh tasting rewards combined with natural stress relief. Don't have the property? Consider a container garden (or even an indoor container like the Aero Garden) for some of your basics. Maybe get to know you neighbors and join in a community plot.
Coupons, discounts and closeouts: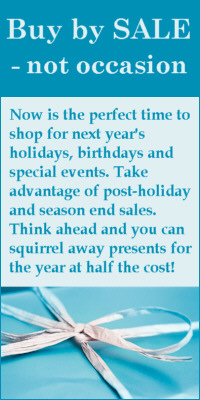 Many sites online now offer ways to compare the best deals by product or store. Whether looking for new electronics or ready to head to the grocery store, check out these sites before you buy. Also take time to review the forums with customer input and reviews. A bit rough around the edges, the customer reviews on these sites are often short and to the point.