Lawsonline™ Legal Topics
Is videoconferencing your customer service solution?
The evolution of the help desk for companies has brought with it a variety of ways for clients to correspond using the company website as a communication platform. With e-mail already being a standard replacement for printed memos and letters, there is a growing demand for websites to offer even faster communications with a personable presence, and a direct convenience with instantaneous results. The solution? Live Help (by enlighten technologies incorporated™) - The Future of Customer Service for Companies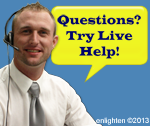 Live Help (by enlighten™) is similar to the online help desk service being utilized on many commercial websites, including Target, Best Buy, and Wal-Mart. An online help desk has proven to be a very effective tool in communicating with clients and improving customer satisfaction. A recent article on ClickZ, entitled "Customer Service Is Even More Important Now," states "Customers want convenience. This means letting them contact you through whatever channels they want. This might mean the telephone, but other channels may be more preferable, such as live chat or e-mail. Investing in 24/7 live chat...if analytics bear out, is a must." (See article.) With more and more people accessing the Internet to conduct research and communicate with one another, staying current with your avenues of online customer service not only makes sense, it's a necessity.
Live Help (by enlighten™) offers the opportunity to enhance a company's online customer service by providing an attractive alternative to slow-to-respond voice mail and impersonal e-mail. Live Help (by enlighten™) offers a personal touch, which equates to the personal connection established when an individual visits a business in person to purchase a product or service and they are greeted and assisted by a representative of the company. Whether buying insurance, clothing, electronics or books, the main intangible that makes doing business with a 'brick and mortar' company an informative and enjoyable experience is the personal connection. Live Help (by enlighten™) is the next step for companies, ensuring they have a virtual representative available to assist clients and potential customers.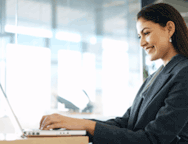 Live Help (by enlighten™) makes it much easier for companies to communicate with potential and active clients, disabled individuals, the elderly, and those who are out-of-state or have a difficult time scheduling face-to-face appointments. In addition, Live Help (by enlighten™) can keep your office staff connected to one another even when you're not in the same location. Wherever you can access the Internet, you can communicate with the office via videoconferencing. Are you working from home, but still need to attend an office meeting? Do you need to chat with a client or gather information from someone out-of-state? Are you on-the-road but still need to attend office meetings? With Live Help (by enlighten™), the possibilities are endless.
No download is necessary to use the cutting edge technology of Live Help (by enlighten™); if you've ever viewed a YouTube video or any other streaming video, you've already downloaded the updates to your browser, which will give you the capability to view video on your computer. Live Help (by enlighten™) uses the same technology that is utilized in modern web chat, creating a communication portal from one computer to another. The Internet has evolved, and within that evolution comes voice, video, and text communications available simultaneously through your website without having to purchase expensive servers and bandwidth. No matter what size your office is, the future for companies is available today!
Whether you're looking to retain clientele with enhanced web offerings, seeking to attract new customers with great service, or want to improve interoffice communication, Live Help (by enlighten™) can save your office money, fortify customer relations, and add a healthy dose of convenience to your work life. If you are an insurance agency looking to add live communication to your website, please call (800) 529-5121 and ask to speak with a representative about Live Help (by enlighten™) today!